Enterprise Strategic Consulting
Summit understands that Strategy rests on unique activities. We don't just ensure operational effectiveness, because OE could be challenged and cloned by other competitors. Summit recommends Competitive Strategy - where the core purpose of competitive strategy is being different. This means deliberately choosing a different set of activities to deliver a unique mix of values to the business.
Summit is positioned to provide this unique mix of values by: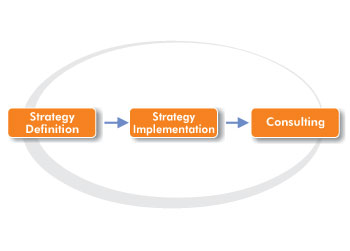 Summit's offering:
IT Potential to the core:
Few enterprises have realized the complete potential from their IT Investments and activities. The gap between value derived and complete Potential is evident from the number of stalled and cancelled initiation
Only 26% of projects completed on time and on budget.
46% of projects overran original estimates ($22 billion over).
28% of projects canceled before completion ($75 billion before cancel).
(Source Standish group ,chaos report, www.standishgroup.com)
In order to realize the Full Potential from IT, Summit helps companies successfully manage four Core IT processes and close "The Gap."
Business Strategy and alignment of the business to IT is critical to all the business, especially where IT plays a central role in business execution. Historical reports suggest that less than 30% of IT projects are successful, often due to the lack of alignment with business needs and priorities. Business Alignment is at the core of realizing the Full Potential from IT:
Business strategy and business initiatives must drive the direction and priorities for IT investments
IT capability must enable innovative business strategies and business capabilities
Summit helps enterprises ensure that business strategy and business initiatives are driving the direction and priorities for IT investments. IT capabilities must enable innovative business strategies and business capabilities.
Identifying the root causes for the problems
Identify processes that can be automated
Recommend solutions both Technical and Non-technical.
Develop Business model (As- is) to (to-be)
Identify the IT System.
Develop Vision for the IT System
Develop SRS for the requirements.
Recommend the IT Process
Vendor Selection
IT Outsourcing strategy.